Doing Business in Suffolk
"This business decision fits with our long-term strategic goals to continue to invest in Hampton Roads. Our proximity to major transit lanes and the Port of Virginia, one of the largest coffee ports in the country, further enhances our position and allows for continued growth, while adding to the economic vitality of the area. Hampton Roads has a business-friendly environment, high quality of life, and a diverse talent pool. We are looking forward to a successful future and adding talented individuals to our existing family of employees here in Suffolk."
– John Boyle, President & CEO, MZB-USA​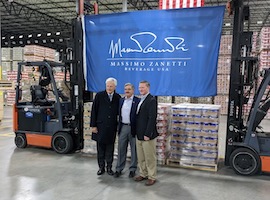 Suffolk at the Center of it All
Suffolk's central location in both Hampton Roads and the overall mid-Atlantic region make it a strategic choice to grow a business and improve your quality of life.
Learn more about why CNN Money selected Suffolk as one of the "100 Best Places to Live" in America, and how the Suffolk Economic Development Department can help you make your vision a reality. You're in good company.
Airports
Freight Rails
Passenger Rails
6 terminals
50-foot deep harbor
Congressional authorization to dredge to 55-foot
Direct service to/from Virginia with connections to over 200 countries
Suffolk enjoys easy access to Interstate 64, a major east-west route.
Routes 58 and 460 serve as direct connectors to principal north-south interstates I-85/I-95.
Route 460 and I-64 both connect to Richmond.
Route 13, 17, and 95 links to northern points such as Washington D.C., Baltimore, Philadelphia, and New York.
I-85 and I-95 lead to Southern points such as Atlanta and Raleigh.